B.Ed. (Hons.) in Educational Studies, B.Ed. in P.E. & History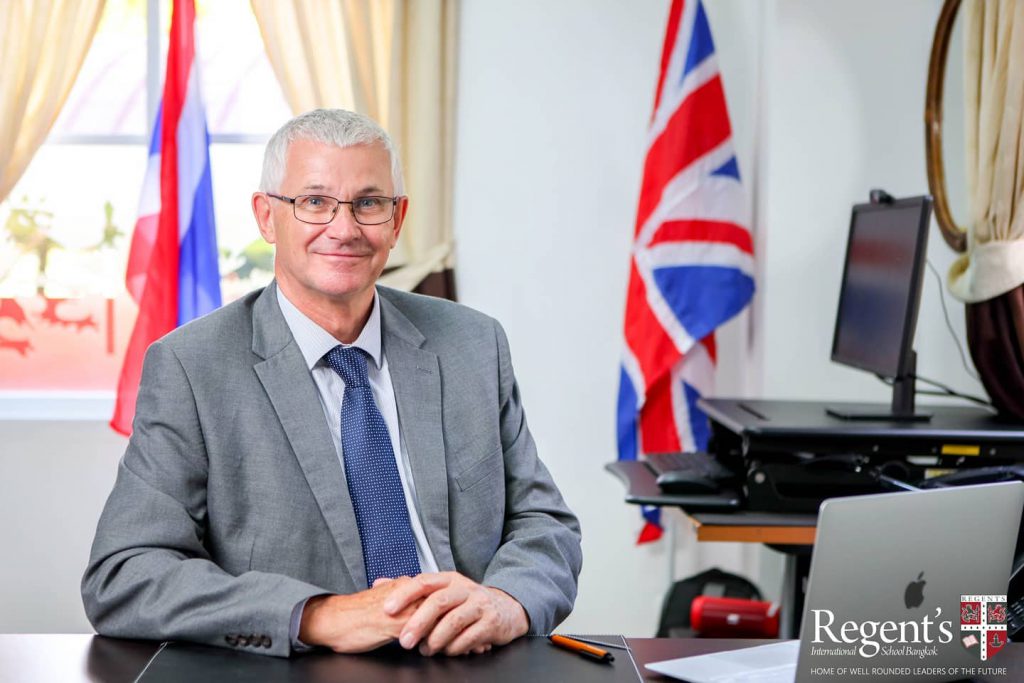 It is with great pride that I have rejoined Regent's International School, Bangkok, after having previously been a teacher and Head of Secondary here for over 10 years. I am truly proud to have come back and see how the school has matured and how the teachers here and the entire staff are always striving to provide the best learning and growth environment for every student, no matter their abilities, passions and future goals.
The series of events that have brought me to Regent's are not by chance. More than 40 years after graduating as a teacher of History and PE, I look back at a very varied and rewarding career. For nearly 20 years I taught in Nottingham, England. During those 20 years my wife, Lynne, and I did two teaching exchanges to Perth and then the Sunshine Coast of Australia. The seed was firmly planted to work abroad. My first post abroad was as Head of a Boy's School in the UAE. This was followed over 10 years at Regent's where I progressed from Senior Teacher to Deputy Head, to Head of Secondary. In 2013 I became Headmaster at Cairo English School. I stayed for 4 years (the longest tenure of any Head!) and then moved as Executive Principal for a Foundation in Shanghai, China overseeing two Yew Wah schools. Now, I am happily back at Regent's International School, in Bangkok, Thailand.
As a teenager I was sport mad! I loved all sports: Rugby, Athletics, Cricket and Football were my strengths and I wanted to do something involving these in my future career. I did not want to work on my father's farm – the black sheep of a farming family! So, it was studying History and PE for me when I went into further education. I was actually inspired by three PE teachers at my school and encouraged by teammates at my rugby club who were also PE teachers.
Why I've decided to return to Regent's Bangkok
Fate and opportunity played their part. There are many positive reasons to return, but it was actually when speaking to Dr.Virachai, who remains so dedicated to the institution he founded, that helped me make the decision. I was fortunate to have a brief visit to Bangkok and was able to see with my own eyes how the school had matured as a centre of learning with dedicated teachers and enthusiastic students. Additionally, both our children graduated from Regents. My son is now a business analyst and my daughter works for a company that accredits law firms and lawyers worldwide. She puts her IB Spanish to practical use every single day. Both are successful alumni! All this makes Regent's very special to me.
My advice for adapting to teach and work in a new country
I believe that you have to understand the culture you are in with an open mind and not impose systems that worked elsewhere expecting them to be successful. However, my ethos throughout my professional career has always included focus on "character development, holistic learning and development of students, providing equal opportunity and ensuring the provision of quality teaching".
The years 2020 and 2021 will certainly go down in history. Covid-19 will never be forgotten! I think the manner in which individuals, groups, schools, countries recover after the pandemic is very important and I am looking forward to seeing how it will define us.
Martin Luther King stated that 'the ultimate measure of a person is not where they stand in moments of comfort and convenience, but where they stand at times of challenge'. Remembering the words of Kurt Hahn 'there is more in you than you think' is vital in these challenging times.
With these two quotes in mind I hope that I can stand with you all to face the challenges in the future. We welcome you to visit or contact us at any time.