BSc (Ed) in Educational Studies and Mathematics (Hons), NPQH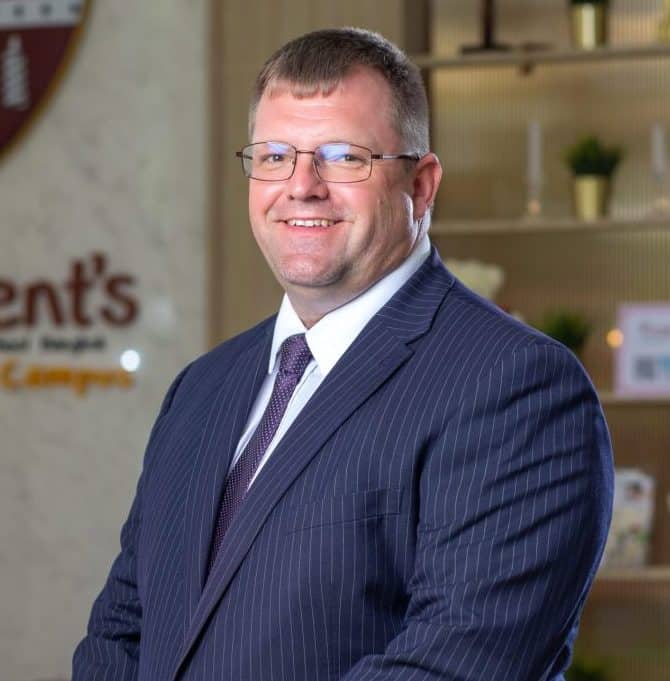 It is with great pleasure that I welcome you to Regents International School, Bangkok. Whether you are visiting our website as a prospective parent, student or as a potential member of our wonderful team, I am sure that you will find the information useful and that you will get a glimpse of what a special and enjoyable place our school is. 
As a school, we are driven to achieving our Regent's Graduate Profile. This simple statement articulates the kind of person a Regent's graduate is and they can be a force for good throughout their lives. 
The Regent's graduate is an empowered, lifelong learner, driven to achieve their potential. They have the resilience and confidence to overcome challenges. They are emotionally intelligent and fully participate in relationships, employment, neighbourhood and global communities. Above all, they are happy and kind, benefitting from a lifelong association with the Regent's family. 
Each constituent of our school community works in harmony to ensure all of our students are working towards achieving their Graduate Profile. It drives our decisions and gives us a moral purpose and direction. 
Preparing well-rounded leaders of the future
As a British curriculum school, we follow a locally adjusted version of the UK school curriculum up to the age of 16 where our students sit GCSE qualifications. Our results are always fantastic and students are well prepared for academic success from when they join us at age 2 onwards. 
From 16 to 18, our students follow the renowned International Baccalaureate Diploma Programme (IBDP). This is widely recognised as being the best and most suitable preparation for university learning and wider contribution to society. Again, our students achieve great success in this area and we are delighted with their acceptance into top universities worldwide. 
Regents International School is proud to have been a member of the Round Square organisation of schools since 2000. Being part of this worldwide family of more than 250 prestigious international schools means that we apply the Round Square IDEALS of Internationalism, Democracy, Environmentalism, Adventure, Leadership and Service. These IDEALS guide us in how we work as a school and provide opportunities for students to develop inside and outside of the classroom. To find out more about the work of Round Square in our school, please click here. 
As an accredited member of the Council of International Schools (CIS) we are a school dedicated to continuous improvement and development. Additionally, we're a proud member of the Federation of British International Schools in Asia (FOBISIA). 
As the Principal of Regents International School since August 2022, I am delighted to be a part of this great community and work alongside our colleagues, family and, of course, students. 
I was born in the Netherlands to a Dutch mother and British father, and raised in Belgium, Wales and England. During school I was involved in drama, sports and particularly enjoyed mathematics and history. 
After achieving my GCSEs and A-Levels in the New Forest, near Southampton, I went on to Exeter University to study for a BSc(Ed) in Educational Studies and Mathematics (Hons). This included my teacher training within my degree and allowed me to gain an excellent understanding of the classroom before completing my studies. 
My first teaching role was in Devon before moving to Norfolk where I became a head of department. I then had the opportunity to work as a consultant and adviser for some time which included developing mathematics education, teacher recruitment and retention and school improvement. During this time, I was seconded to a school as a Deputy Headteacher, before taking up the post permanently. 
In 2013, I began my first role as a Headteacher of a school in Cornwall in the UK. After several years, my family and I decided to move overseas to gain greater experience and to widen our understanding of cultures around the world. We spent three years at a prestigious international school in Bogota, Colombia before joining Regents International School, Bangkok in August, 2022. 
I am joined here at Regent's by my wife and three teenage children. 

Mr. Andy Edmonds
School Principal