Regent's International School Bangkok
A welcome message from Mrs. Kirsten Prescott, Head of Secondary
It is my great privilege and honour to be the Head of Secondary here at Regent's.
As the great Martin Luther King Jnr. once said; "Intelligence plus character, that is the goal of true education". At Regent's we could not agree more.  We are a school which cares deeply about every aspect of your child's development, academic, social, cultural and emotional.
Our highly qualified, passionate, experienced staff not only deliver high quality lessons, but also ensure that they know all our students as individuals and ensure that their experiences in the Secondary School help them to develop and aspire to achieve all their unique goals and ambitions. However, above all else, we want our students – along with all members of our community – to be happy and kind.
We – very simply – strive to "bring out the best in everyone", both academically and socially.
Regent's International School is not an academically selective school, but we expect all pupils to strive for success in everything they undertake. Many of our pupils go on to university education in the USA, Canada, the UK as well as Hong Kong, Thailand and Australia. Our students represent the school locally, nationally and internationally in a range of activities and areas including Round Square events, MUN conference as well as broad range of arts and sporting events and a whole host of service activities. 
I hope you find this section of the website useful. Here you will find more detailed information about our Secondary Section. The website – along with our work – is always developing, evolving and improving so please do feel free to contact the school directly  with any questions you have.
We are incredibly proud of our school, our students and our community.
We are ambitious and aim to ensure that Regent's is the school of choice for parents and children in Bangkok, in Thailand and across the World.
We look forward to welcoming you to Regent's so that you can experience our wonderful school yourself.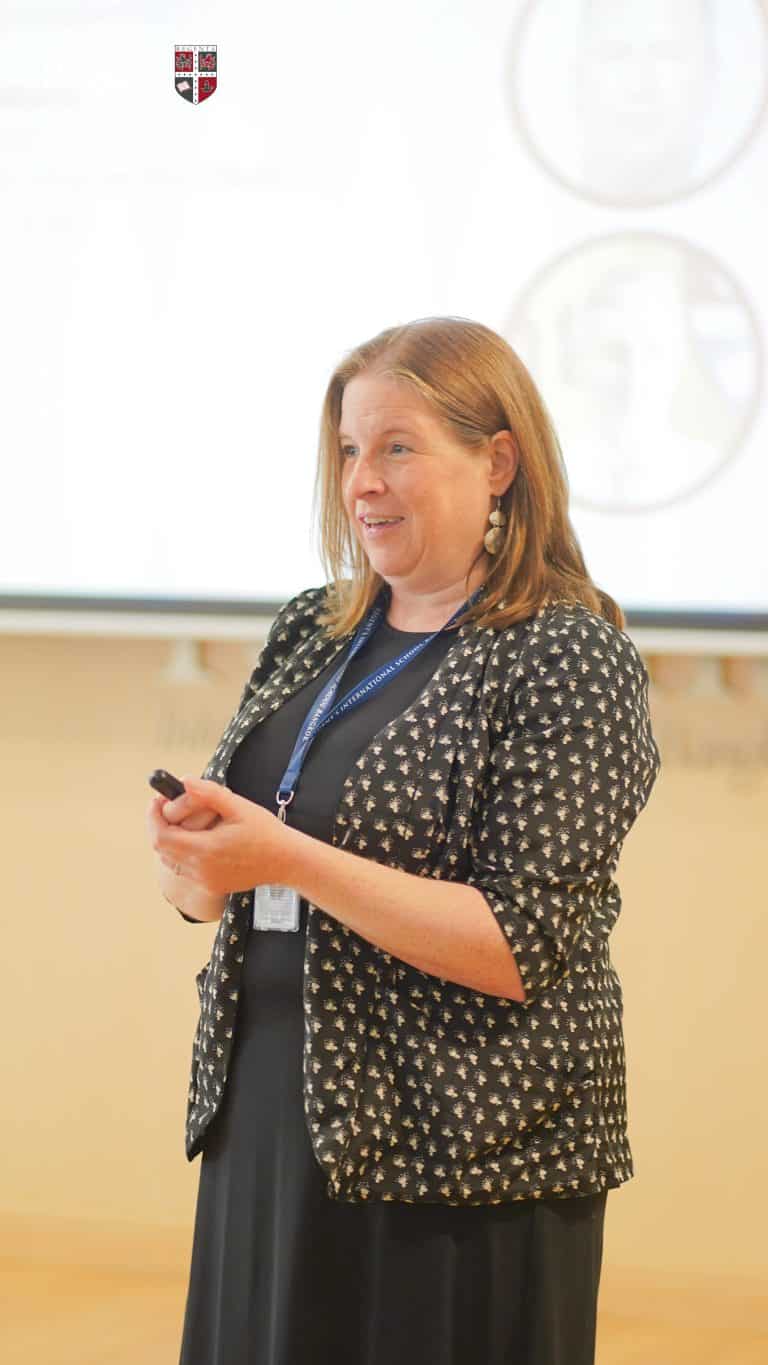 Regent's International School offers a holistic education that places every child at the heart of the curriculum.  Our mission is to ensure that students develop into well rounded leaders for the future.  In order to realise this vision, we provide all students a broad, balanced range of academic subjects that is delivered by experienced international teachers.  We also ensure that all students develop their literacy in English.  This curriculum is supported by a strong pastoral team as well as a variety of enrichment and extracurricular activities.  Our curriculum is based on Key Stages that build on the Primary School curriculum and ensure progression from year to year.  The various areas of this website outline each of Key Stage and our Handbooks provide more detailed information on our curriculum.
Key Stage 3 (Year 7 to 9)
This stage builds on the foundations of knowledge, understanding and skills developed in Primary School, while seeking to deliver education to meet the needs of our young and society. There is strong emphasis on functional skills such as Literacy, ICT and Numeracy, as well as collaboration and interdependence, critical thinking, creativity, resourcefulness, reflection and resilience. We place great importance on wellbeing and aim to ensure students feel safe, stay healthy and are happy. We provide support for student's mental and emotional welfare and offer a range of activity opportunities beyond the classroom including anything from MUN to drama and sporting activities, as well as curricular trips to further enrich their education.
Key Stage 4 (Year 10 to 11)
During this stage, students follow the International General Certificate of Secondary Education programme (IGCSE), offering one of the most recognized qualifications around the world, providing an ideal foundation for the International Baccalaureate Diploma programme offered at Regent's International School, Bangkok. Many of our students excel at IGCSE level, consistently exceeding UK national averages in terms of A*-A grades and A*-C grades. Students are encouraged to study a wide range of subjects at the IGCSE level. In order to follow a broad and balanced curriculum, many students take courses from each of main subject groups, ensuring they will be well prepared for the IB Diploma course.
Students also continue to develop skills that will enable them to become responsible and confident young adults. Opportunities include participation in House and inter-school competitions and extracurricular activities. The strong emphasis on academic rigour as well as on well-being and citizenship will mean that students are well prepared for the IB Diploma and university. This balanced approach is a core element of our mission in supporting students to become well rounded leaders for the future.
For more information you can contact
· Mr. Charles Barrow – Deputy Head of Secondary – charles.barrow@regents.ac.th
· Mrs Kirsten Prescott – Head of Secondary – kirsten.prescott@regents.ac.th 
The Regent's International School Pre-IB programme offers new students the opportunity to prepare for the IB Diploma.  This programme is specifically designed for a student that is shown to have the ability and potential to be successful in the IB Diploma.  However, they may lack the language and literacy skills in English to fully access the IB course, or may not have completed the first year of the IGCSE programme.  
The Pre-IB Programme is a personalised intensive course that follows the second year of IGCSE.  It is specifically adapted to the interests and needs of the individual student.
Typically, the programme has an emphasis on furthering a student's literacy skills in English.  It aims to ensure that by the end of the year students are at intermediate level in English and have become more able and confident in reading, writing, speaking and listening in English.
The International Baccalaureate (IB) is a rigorous academic program emphasizing academic achievement, critical thinking, research skills and community service. It has been operating worldwide for almost 30 years and is in place in almost 1500 schools in around 120 countries around the world.  The IB Diploma is recognized in virtually every country in the world.
The Diploma Programme encourages students to:
ask challenging questions

learn how to learn

develop a strong sense of their own identity and    culture

develop the ability to communicate with and understand people from other countries and cultures.