Regents International School bangkok
one of the leading schools in Thailand.
Since Regent's International School, Bangkok joined the elite group of schools around the world in the Round Square Association in 2001, it has adopted its holistic ethos and embedded it throughout the whole school's curriculum.
At Regent's, we give outstanding importance to the pastoral care offered to our pupils, putting their wellbeing at the center of every decision we make. Every student has a different story and a unique learning journey. 
A tradition of English school, the House system is considered an enrichment of the academic life, giving students of all ages the opportunity to work together. At Regent's International School, each student is allocated to one of the four houses: A, B, C or D, remaining in the same house while they are at Regent's.
Primary Calendar 2021-2022
Secondary Calendar 2021-2022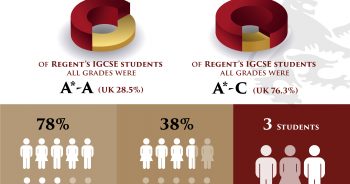 Congratulations to our IGCSE Class of 2021! Regent's International School, Bangkok, is celebrating another great year of IGCSE results. Yet again, our students gained almost twice as many A*-A grades as the UK average. FINAL GRADE HEADLINES 52% of all grades were A*-A (UK 28.5%) 93% of all grades were A*-C (UK 76.3%) 78% students […]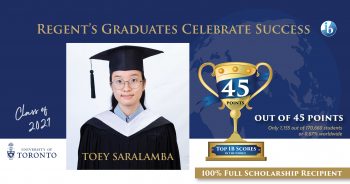 Congratulations to our Year 13 student, Toey Saralamba! Toey gained an amazing 45 points out of 45. This is an impressive feat and reflects Regent's International School Bangkok's commitment to success for every single student. Toey has been granted a 100% full scholarship by the Lester B. Pearson International Scholarship program. The University of Toronto […]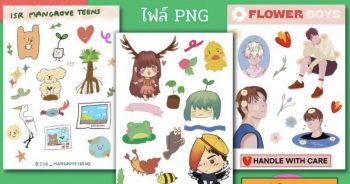 Regent's is proud to support our Mangrove Teens, a group of students dedicated to improving the environment by planting trees. "As Regent's students we are participating in a project called 'Mangrove Teens'. Our goal is to plant 250,000 trees this year. We are students who have gathered to accomplish one goal which is to make […]
If you'd like to book a school visit,
please contact us at 092-362-8888 or Line@regentsschoolbkk.